Stjärnjul@Home – our 28th year goes online
Stjärnjul@Home brings you a cozy Christmassy feeling, in our popular joy-filled show! This year, we'll do it digitally, so that everyone can safely enjoy the Christmas atmosphere despite the pandemic. The talks between songs are in Swedish, but music is of course a universal language that can be understood and appreciated by all.
Enjoy the over 200 world-class performers of the Stjärnjul-chorus with singers from Rönninge Show Chorus and The EntertainMen; the fantastic guest artists Kalle Moraeus, Annika Herlitz, Kiralina Salandy, Kjetil Støa and Jakob Stenberg; and not forgetting the Stjärnjul-orchestra, directed by Grammy Award winning Mattias Bylund. The concert was recorded in the Philadelphia Church, our classic Stjärnjul locale, in 2018, and can be enjoyed by all ages.
Duration: about 2 hrs
You can buy a ticket now, then watch whenever you want between the 18th of December at 6pm Swedish time and Christmas day, the 25th of December. We'll send you a code via e-mail which you can use at VOYD (Video On Your Demand, the streaming service hosting the show) to watch Stjärnjul@Home. Detailed information will be sent in your booking confirmation. Be advised that the email may be in Swedish, so Google Translate is your friend. Also, the VOYD site is in Swedish, so please make good use of the translation feature included in your Chrome web browser.
Stjärnjul at home - the perfect Christmas gift?
Many say that Christmas begins with Stjärnjul, and that it is not a real Christmas without Stjärnjul. To whom would you like to give the gift of music as a Christmas gift in advance? If you want to share Stjärnjul at home for Christmas, it's easy. Ticketmaster gives you one code per ticket that can be used on the VOYD streaming service. Pass on the code you get to the person you want, to give him or her your Christmas gift.
All the recipient has to do is log in to VOYD and use the code to activate the ability to see Stjärnjul at home. Each code is valid for one activation. Why not decide to watch at the same time as your friends? You can meet up online to chat with each other before and afterwards, and you can enjoy watching and chat at the same time without disturbing fellow audience members. This can be your chance to socialize and experience the Christmas spirit together, without meeting physically.
The audience about Stjärnjul 2018
"Beautiful, fast paced, fun and breath taking. This was a powerful experience. I don't think I've ever been so touched by music before."
"What a wonderful Christmas concert, especially the choir was exceptional…"
"Your absolute best concert. I'm totally blown away. Awesome!"
"Absolutely magical and wonderful."
"We have seen the last 10-15 years and we will definitely next year again. No Christmas without Stjärnjul. Exceptional artists again this year. Amazing!!"
"Thank you for a brilliant concert this year - again! It surely brought warmth to a cold winter heart, brought tears and laughter, and above all shivers along the entire spine!"
"What a performance!! Best ever! Amazing! My mother from Germany will talk about the show when she is home! Awesome!! Many thanks! Now it's Christmas!!"
"A fantastic concert, took me by storm, 'goose bumps' and tears in the corner of my eyes."
"THANK YOU for a fantastic performance, so amazingly good! Considering seriously going again if there are tickets left for any of the remaining performances!"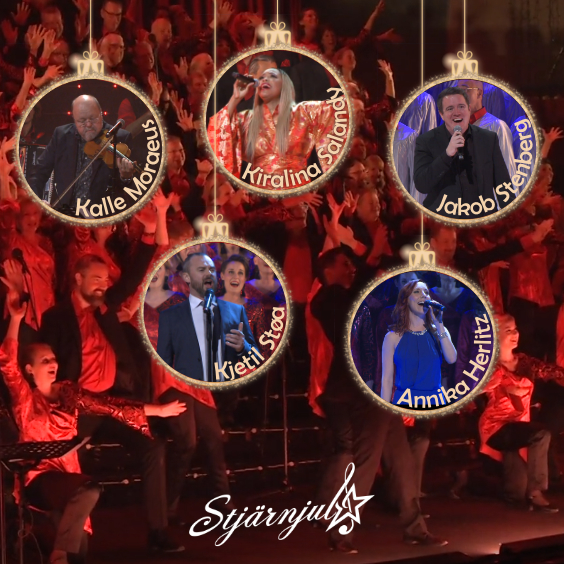 This is how you watch the show
1. Visit voyd.se/presentkort (using the translation feature in your web browser if you can't read Swedish)
2. Enter your value code (that you got from Ticketmaster) and login (or create your account)
3. Find Stjärnjul hemma (Stjärnjul@Home) in "Mina köp" ("My Purchases"), and enjoy the show!